We are in the second quarter of 2018 and deal data is now available through the end of the first quarter.  In this report, we review our region's most active industry sectors and give an outlook for 2018.
M&A Transaction Report by Sector
I. Aerospace
Mid to smaller size accretive acquisitions are liely to be the focus of
acquisitions for 2018, but there are outside drivers likely to impact aerospace M&A this year.
Highlights:
There are concerns about potential disruption to industrial supply chains with recent trade policy turbulence.
Tightening monetary policy underscores the benefit of a strong cash position, which the sector has experienced over the last several quarters.  Liquidity will also increase with the lower corporate tax rates recently introduced.
General Dynamics' acquisition of CSRA accounted for 64% of Q1 deal value this past quarter.
The Software and Security Systems category accounts for the majority of sub-sector deal value as acquirers seek scale, synergies, and cost-effective IT solutions and services for defense, intelligence communities, and government civilian agencies.
II. Chemicals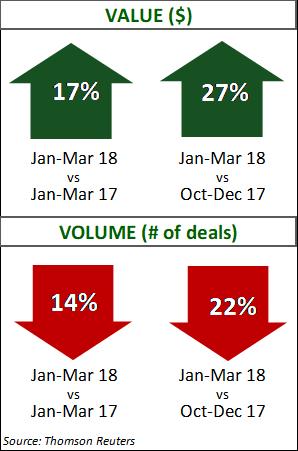 Several contributing factors are fueling tailwinds for the 
chemicals sector M&A activity: tax changes, NAFTA implications and the consequences of larger company consolidations.
Highlights:
Conflicts arising from recent tariffs and the uncertainty with NAFTA could lead to increased M&A activity as companies seek to repair potential supply chain disruption.
Several regulatory ordered divestitures are likely to follow consolidation among chemical majors, contributing to M&A transaction value and volume this year.
Due Carlyle Group acquisition of AkzoNobel's Specialty Chemicals business, the Specialty Chemicals category accounted for 92% of chemicals deal value.  Broader activity in this sub-sector also contributed to 52% of deal volume.
III. Construction and Engineering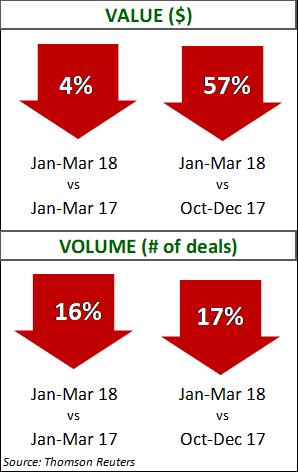 The construction and engineering sector's underlying fundamentals are positive as investment continues in housing and infrastructure.
Highlights:
Construction Materials Manufacturing owned the bulk of deal value this quarter, while deal volume is led by Construction and Civil Engineering.
Any tailwinds developed by tax reform may be subdued by trade policy disputes and recent tariff announcements.
Even with continuing trade agreement discussions and potential trade conflicts, the outlook for the North American market is positive.
IV. Energy: Oil and Gas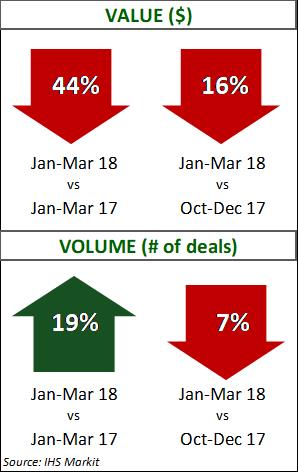 Rising energy prices have created renewed outside interest in the oil and gas sector.  Within the sector, increased deal activity is expected in 2018, but primarily smaller deals.
Highlights:
Oil and gas companies have been transitioning to a model with less risk; emphasizing capital discipline and working within existing cash flows.  Divestiture of non-core assets will likely result.
Driven by shale deal activity, upstream deal value increased 76% from the prior quarter.  Analysts expect to see continuing shale-related deals as companies look for opportunities where they already have expertise and scale.
Midstream volumes were up compared to last quarter and year over year, however values were down.  Downstream and oilfield services experienced a decrease in volume and value.
V. Healthcare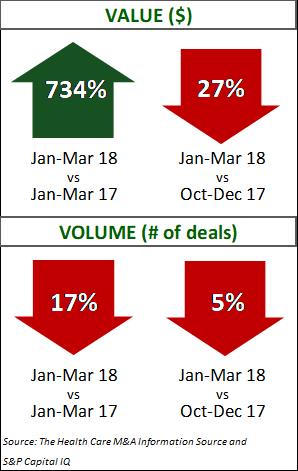 Healthcare M&A transactions exceeded 200 deals for the fourteenth quarter in a row, despite declines over prior quarter and prior year.
Highlights:
Disruption and potential systemic changes to healthcare were topics this quarter with the collaboration between Amazon, JP Morgan Chase, and Berkshire Hathaway.
Cigna's acquisition of Express Scripts accounted for 92% of deal value this quarter.  This vertical integration resulted in the Other Services sub-sector as the leader in deal value; however, the Hospitals sub-sector also had significant value growth this quarter.
Long-term Care continues to lead transaction volume, while Managed Care and Hospitals increased in volume, 50% and 20%, respectively.
VI. Manufacturing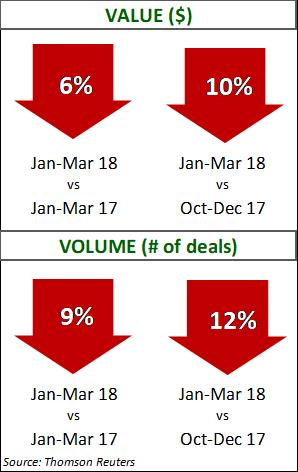 Industrial Manufacturing volume and value of deals were down, but deal drivers are strong for greater deal activity in this sector this year.
Highlights:
Divestitures of non-core divisions among larger industrials will benefit from a lower tax cost, increasing the supply of assets on the market.  The lower tax rates also increase available liquidity for M&A transactions.
M&A activity continues to be influenced by the fast pace of technology and the need to digitize to maintain relevance.
While Industrial Machinery led the sector in deal volume, the Electronic and Electrical Equipment category and Rubber and Plastic Products led the deal value this quarter.
VII. Transportation, Logistics, Distribution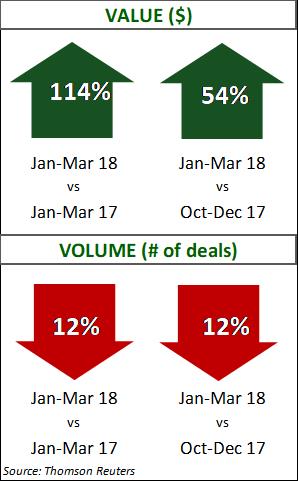 The sector experienced its highest quarterly deal value in three years, however the number of deals declined.
Highlights:
To explain the drop in volume, analysts point to the reduction of Shipping deals as the subsector slows in activity after much consolidation the last several quarters.
Passenger Air accounted for the highest percentage of deal volume at 26%, with Passenger Ground a close second with 21% of total deal volume.
As one Passenger Ground category megadeal represented the largest deal in five years, analysts expect the upcoming quarterly transaction values to be steady, but at a lower level.
How Can ClearRidge Help You Sell Your Business?
Clients trust ClearRidge to deliver a confidential and discrete preparation and sale process, to remove obstacles to close a transaction and ensure only the most qualified prospective buyers make it to the closing table, with the capital and commitment to close a transaction. The ultimate goal is a higher sale price and preferred deal terms.
ClearRidge is the most active M&A advisory firm in our region and has been recognized for the quality of our work and success at managing and arranging transactions for our clients' companies. For further information on our team, industry expertise and transactions history, please visit www.ClearRidgeCapital.com.
Sources:  This report has been compiled from reports and research including federal data, independent analysis, Reuters, Janes Capital Partners, Kiplinger, PCE-Companies, Mergermarket, PricewaterhouseCoopers, and SDR Ventures.
Note: In the report, you will see that some of the deal data is for larger public companies. The most reliable and timely data tends to be for the larger companies in each industry; however, deal activity of the largest corporations is also a good barometer for M&A activity among midsized companies in the same industry.